Winter may not be the first season you think of when you imagine a trip to the mountain town of Eureka Springs, especially not after the magic of the holidays has faded. However, that is exactly when we decided to go. We discovered winter in Eureka Springs has its own magic.
Winter is when you can walk down the all but deserted downtown streets and although it's just for the season, you imagine the place exists only for you. Quite romantic when you are there to celebrate an anniversary like we were.
When the people who are still around are mostly locals–the ones you run into in the coffee shops, hole-in-the-wall lunch spots and watering holes. The ones that have lived there all of their lives or at least a good portion of it. The ones that can tell you the stories that still live on, whether they be truth or tall tales–it doesn't matter–those stories make up the rich history of this vibrant Ozark gem.
If that is not reason enough to pack your bag and head there right now, perhaps this list will help sway you.
This time of year in Eureka Springs…
1. Learn local folklore and history while strolling through downtown
Think speakeasies, mafia bosses, prohibition, bank robberies and an underground downtown. We were glad we braved the cold to go on the Hell Raisers, Hoodlums and a Heated History tour with guide Christie Braswell. "Guide" does not really capture the nature of what Christie brings to the tour, I think "story-weaver" is a more apt descriptor. From Basin Spring Park we embarked on a journey through the history of Eureka Springs, from the early stories of Native Americans traveling from afar to be healed in the waters from the spring, to the first (and last) attempted bank robbery in town. Christie knew the stories well as many involve folks from her family's past and places where she has grown up. I could tell you all of the wonderful stories, but you really should hear them from Christie!
2. Book a room in a cozy Bed & Breakfast and retreat from the cold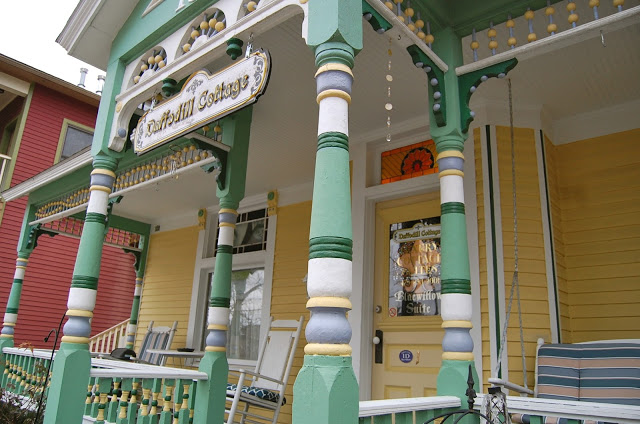 There is no shortage of places to stay in Eureka Springs, and certainly many Bed & Breakfasts to choose from but only one that I can wholeheartedly recommend. True, it is the only one that I have ever stayed in, but I truly loved our room in the Daffodil Cottage. It is one of the five All Seasons Luxury Properties. The owner, Pat, was such a gracious and accommodating hostess. She made sure we were comfortable and even called around to find a place that was still open for dinner when we arrived Monday evening. Our room was called the Blue Willow Suite and was beautifully decorated with blue and white antiques, a four-poster king-size bed, a sitting area and an antique wardrobe. We also enjoyed modern comforts such as a flat screen TV, an electric fireplace that added warmth as well as ambiance, and a kitchen that included a microwave and a fridge. My favorite thing in the whole suite though was the Jacuzzi tub–large enough for two, but I enjoyed having it all to myself each evening after Jeremy went to bed. With the cook away, we did not get to partake in the breakfast part of the bed and breakfast, but that forced us to go explore the local eateries, much to our delight. Pat did extend to us an invitation to come back sometime for breakfast even if we were not staying at the inn!
3. Pamper yourself with a spa treatment (or two!)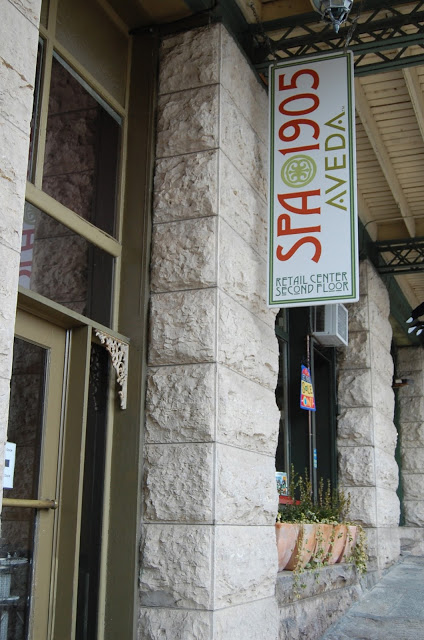 If you must leave the cozy comfort of your room, you might as well get pampered. Located on the 2nd floor of the Basin Park Hotel, Spa1905 is an Aveda salon and spa featuring massage, facials, hair care and more. The staff was tremendously accommodating, especially Ashley, she made sure to ask about our other plans so she could help me schedule treatments around them. After our walking history tour, I warmed up with a Swedish massage. Then, after a behind-the-scenes tour of the Passion Play, I returned for a luxurious Elements Facial. Both treatments were relaxing and implemented Aveda products which I already use and love! Both the massage therapist, Lacey, and aesthetician, Jenni, were caring and asked questions to help tailor the services to my needs.
4. Go on a private tour

At least it will feel private because it's very likely you'll be the only ones there besides the guide. That was the case on our behind-the-scenes tour of The Great Passion Play. We met Passion Play Assistant Executive Director Kent Butler at the gift shop and began our tour in the Bible Museum. He admitted he is not the one who normally gives the Bible Museum tour, but we still enjoyed seeing many rare and precious bibles from all different eras and in an array of different languages. I definitely want to return when we have more time and peruse the collection again. From the Bible Museum we moved on outside to the amphitheater where the Passion Play is performed. While Kent was very engaged in the Bible Museum, you could tell that the play was truly a passion for him (no pun intended). His enthusiasm for everything from the effects to the soundboard is likely due in part to the fact that over the years he has always had some sort of a role in the play. He started by playing a Roman soldier and now is one of the actors that portray Jesus.
5. Walk on the wild side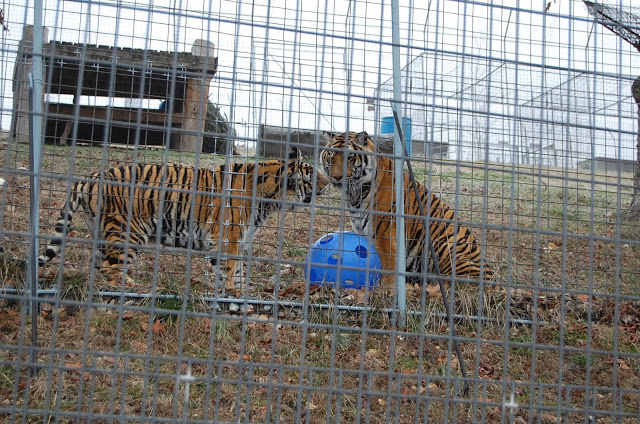 When you take a tour of Turpentine Creek Wildlife Refuge, you quite literally walk on the wild side of Eureka Springs. Our tour guide was Megan, an intern from Minnesota who plans to go on to be a zoo keeper in her home state. She was so kind to guide us through the refuge even though it was extremely cold and many of the lions, tigers and bears were keeping warm up out of sight in their dens. We did get to see a few of the cats though, as well as one monkey. She told us the stories behind how many of the big cats were rescued and subsequently brought to live at Turpentine Creek. The stories we heard stirred up feelings of both heartbreak–in hearing of abuse and neglect, and hope–in knowing that the people who are now caring for these animals have their best interests at heart.
I am so glad that Eureka Springs is only a hop, skip and a jump from home because I already made another list…a list of all of the things we didn't fit into this trip that we need to go back to see and do!