A couple of weeks ago, I took a road trip with some friends to New Orleans for my best friend's birthday. The passing of another year is not usually marked with such an indulgence, but this year carried with it a significance no other birthday has before or will again. I speak of that uneasy transition from 20-something to 30-something.
Sunset on Lake Pontchartrain

New Orleans is such a beautiful city full of history, culture, art and wonderful food. Yet there is a sorrow underlining all of her beauty that is inescapable. I hope to go back again and uncover some more of her secrets. A lyric from "Lorraine's Song" by Grayson Capps has been on repeat in my mind since we left: "Lord, fly me over Pontchartrain/Back to the land of sugarcane and summer rain."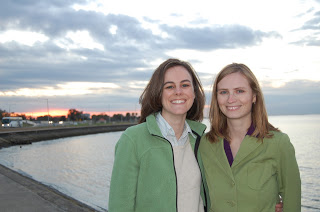 H and me (left)
One of the highlights of the trip, of course, was the "spiritual" experience of having beignets and cafe au lait at Cafe Du Monde on Decatur. This was followed by an exploration of the French Quarter.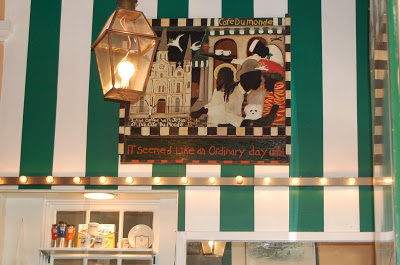 "It seemed like an ordinary day until I had coffee with Jesus at The Cafe Du Monde."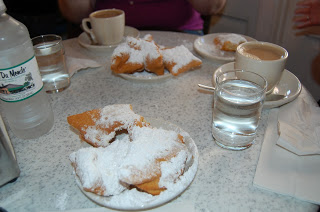 Simply decadent.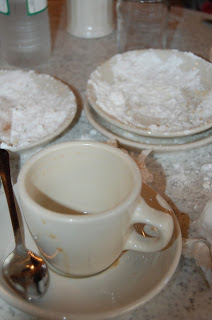 The aftermath
Pirate's Alley (where Faulkner House Books is located)
"Standin' on the corner of Royal Street"
Another day was spent in the Algiers neighborhood. We traversed the mighty Mississippi by ferry to get to this charming place that was left untouched by Hurricane Katrina.
P and H on the Algiers Ferry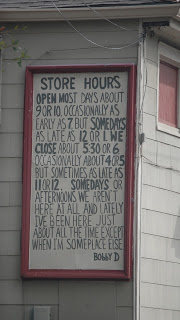 Sign posted outside the "fancy grocery store" in Algiers
The day before we left, I called my brother to ask if the 2 hour drive down to Grand Isle was worth it. It was. I could have spent the entire vacation there–collecting shells, watching the porpoises and gazing out at the muddy gulf.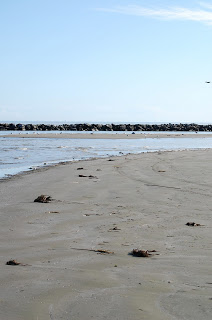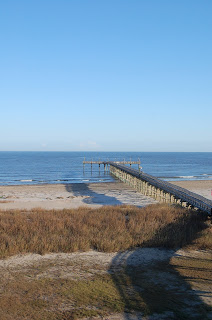 As my own 30th birthday rapidly approaches, I find myself closing my eyes and picturing that beach. I believe that my 30's will be calmer and I'm quite looking forward to that. "I grow old … I grow old/I shall wear the bottoms of my trousers rolled." -excerpt from The Love Song of J. Alfred Prufrock by T.S. Eliot.
Sorry for the long post this time. I hope you enjoyed the photos of our trip.