….and Ghiradelli. There will be Josh Cellars wine as well, but it just didn't fit with the alliteration. As Paris Gellar said, "Never underestimate the power of alliteration, my friend."
This post is sponsored by
Ghirardelli Chocolate
and
Josh Cellars
wine in conjunction with their #asweetpairing campaign. All words (except a smattering of Gilmore Girls quotes) and opinions are my own.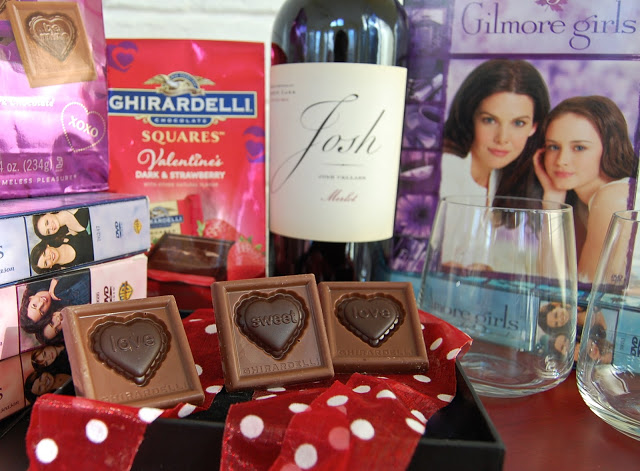 One of my best gals is going to be in town for Galentine's Day and I just can't wait. I have been thinking and planning and scheming (and wishin' and hopin') ever since I got the text confirming her visit. What should we do? Where should we go? Can we do all of the things? If not, how many of the things can we squeeze into this one visit? Then, after seeing the news of the confirmed revival of Gilmore Girls on Netflix, it hit me. We should must have a girls' night in a la Gilmore Girls, complete with ordering in way too much takeout and a themed movie marathon. Should we have pizza? Chinese (including one of each item on the menu, of course)? Burgers with fries? All of the above? What am I thinking? Definitely all of the above. Okay, okay. We probably shouldn't have all of the above. As Lorelai said, "People don't realize it takes years of training to eat the way we do." And even then, it can still make you queasy. Takeout is imperative though, I mean, you don't want to risk going to a restaurant and getting a "urine mint."
Once the food is selected, the next question is what movie theme do we commit to watching? Just a few of the many, many movies referenced on the show include The Godfather (I, II, and III with extra showings of the Sofia death over and over), Pulp Fiction (remember the Quentin Tarantino themed party?), Lord of the Rings, Duck Soup, Sixteen Candles, The Breakfast Club, Pippi Longstocking, The 2000 Year Old Man, American Gigolo, Bringing Up Baby, Brigadoon, Casablanca, Cocktail, and The Yearling….okay, I'll stop now.
As you can tell, there is really no limit to the film and food choices if you stick strictly to those featured on the show. If fact, those choices can become quite overwhelming so I've narrowed them down for you. Presenting a Gilmore Girls movie playlist for your own girls night in, including the perfect junk food/takeout pairings.


1. Willy Wonka and the Chocolate Factory + Pizza and an assortment of Ghirardelli chocolates
Season 1, Episode 7: Rory's Birthday Parties
A classic film paired with a classic takeout food. Don't even think about ordering salad. And chocolate is just a given. I personally prefer the Ghirardelli dark chocolate squares with sea salt caramel.
2. Godfather I, II, III + Chinese food, Mallomars and biscotti
Season 4, Episode 1: Ballroom & Biscotti
This is really an all day event, but you could definitely squeeze in at least 2 Godfather's and a Sofia dying.
3. The 2000 Year Old Man and Silent Movie + Tator tots, pizza rolls, and rocky road hot fudge sundaes with whipped cream & maraschino cherries
Season 2, Episode 15: Lost & Found (references both the films and the sundaes)
Mel Brooks is a favorite of the Gilmore Girls. Lorelai even claimed to want a tattoo of Brooks on her butt.
4. Grey Gardens (the original & the HBO remake) + Hot dogs, Beefaroni and Pop-Tarts
Season 3, Episode 9: A Deep-Fried Korean Thanksgiving
A documentary about Big Edie and Little Edie, a mother and daughter who were once a part of high society (relatives of Jackie O., no less) and are now living removed from the life they once lived. Sound a bit familiar? Even Lorelai and Rory make the sobering connection. "Add a few years and that's us."-Rory Gilmore
5. Casablanca + Burgers, fries and pumpkin pie with a side of Chinese food
Season 4, Episode 5: The Fundamental Things Apply (Also the episode that references "urine mints")
When Lorelai learns that Luke has never seen any film Casablanca, she invites him over to watch it and another classic…Hardbodies. Spoiler Alert: He makes it through Casablanca and falls asleep during Hardbodies.
6. Funny Face and Sabrina + Mac & Cheese, Twizzlers and brownies
Season 7, Episode 4: 'S Wonderful, 'S Marvelous; Season 3, Episode 21: Here Comes the Son; Season 5, Episode 10: But Not as Cute as Pushkin
During an on-again edition of Chris + Lorelai, Chris sets up a private drive-in screening of one of Lorelai's favorite films, Funny Face. If you're going to watch one film starring Rory's doppleganger (according to Miss Celine), then you might as well make a night of it and watch another Audrey Hepburn film mentioned on the show.
"Since I just ate, uh, half a bag of marshmallows, 6 poptarts , 4 bagel dogs, and a really stale cheese nip…yep, it's brownie time." -Lorelai
It pretty much goes without saying, but the food goes down best with copious amounts of coffee. Since I have a toddler who wakes me up early in the morning, I'll probably end up switching to a glass of Josh Cellars merlot (aka chef's juice) once the evening begins! A meme-worthy wine quote from Gilmore Girls:
Lorelai: Would you like some more chef's juice?
Rory: More wine would be great.
There are many meme-worthy quotes about coffee on Gilmore Girls. So many that I could do a whole other post on them, but I will share this one. This exchange between Lorelai and Christopher sums it up pretty well:
Lorelai: Do you want some coffee?
Chris : I'll get it.
Lorelai: Do you know how to make coffee?
Chris: Yes, I do.
Lorelai: My coffee?
Chris: One bag of coffee per cup of water, right?
Lorelai: Perfect.
And, without further ado, here's where you enter to win a $75 American Express gift card. Also, be sure to follow me on
Instagram
! I'll be giving away another gift card there.