This post was compensated by Imagine: A Child's Adventureworld. All thoughts are honest and my own.
Imagine a place where you can take your child on a playdate and sit chatting with other moms while still being able to watch your children play. Now imagine that place as a bright, fun, engaging play space with predominantly wooden toys separated by half walls into areas that let their imaginations run wild–a veterinarian clinic, a fire station, a market, a cottage, a train depot and more. This is the dream that Orie and Amanda Quinn have made into reality at Imagine: A Child's Adventureworld in Fayetteville. Just as important as the things that they have included in the space are the things that they have left out of it, including screens, coin-operated games and to the best of their ability, germs. Rule number one when coming into Imagine is that everyone must wash their hands before any play begins. That, along with a strict sanitation policy goes a long way in easing my mind about taking my son into a place where toys are played with by many children throughout the day.

When the Quinns were unable to find the kind of play space that they wanted for their kids in the Fayetteville area they began to dream up plans for a theme park based on imaginative play. The themed areas in Imagine were modeled after the way the Quinns facilitated play for their own sons, Aiden, 5, and Spencer, 3, in their home. They would transform their spaces into themed areas to play and interact in, implementing various challenges and scavenger hunts within those themes. Once they scaled down their ideas to something that would work here in Northwest Arkansas, they brought in James and Brittany Flammer as partners. James was able to take their ideas and make them into reality by building out the space into the separate areas, and even building some of the playscapes, such as the train that captured my son's attention the moment we walked in.
You really have to see it yourself to appreciate all of the wonderful detail that was put into the play areas, from the walls painted by artist Jason Jones, to the toys chosen, to the woodwork, but here is a virtual tour of the space.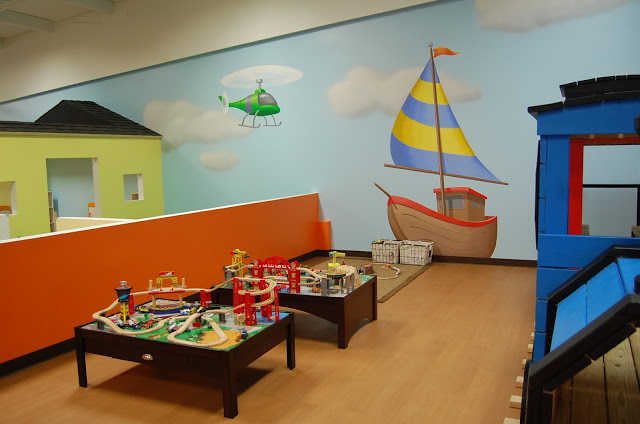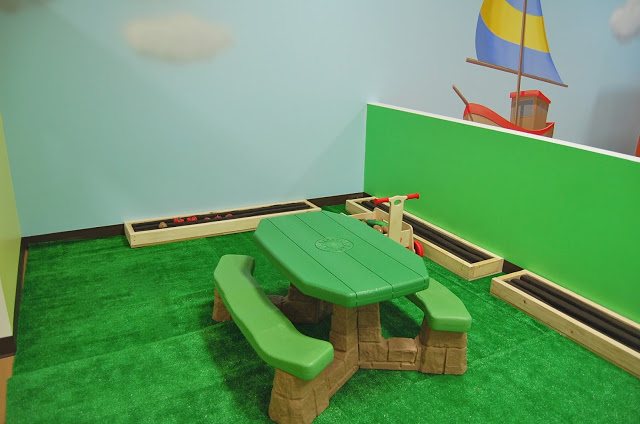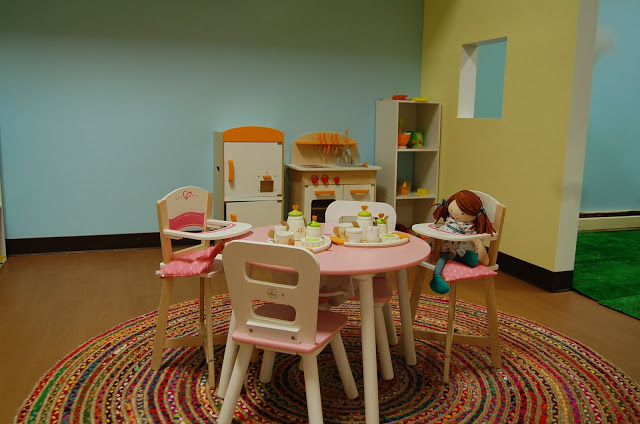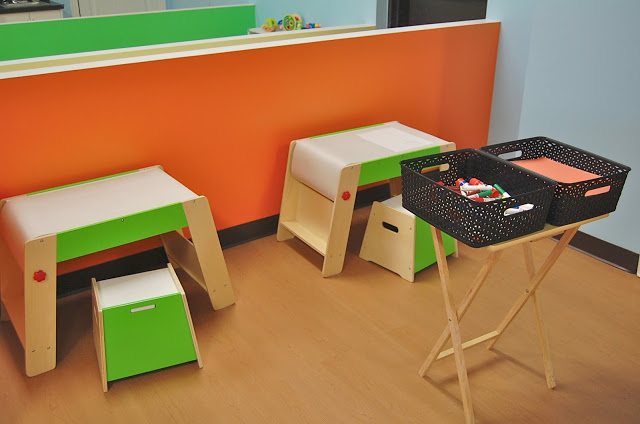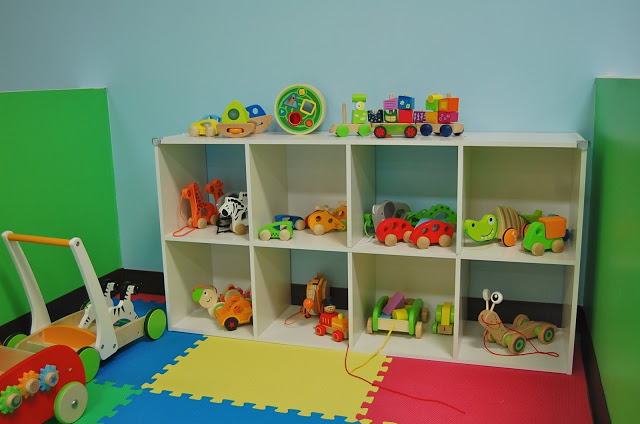 Isn't it a fun space? This place is the the stuff of kids' dreams, well, at least for my kid. I love watching my son so engaged in play and really using his imagination and creativity. The separate areas help to capture a child's attention and keep them occupied with an activity for longer than if there were in a wide open space with lots of different options. If you've ever taken your child to play in an open concept play area, you may have noticed them jump from one activity to another to another without spending much time with any one activity. It's exhausting to watch and overwhelming for the children. The first time we visited Imagine, my son spent all of his time in the first 3 play sections. Each time we have returned, he has discovered a new area to play in. I can definitely see his appreciation for some of the different toys/play areas growing as he grows up.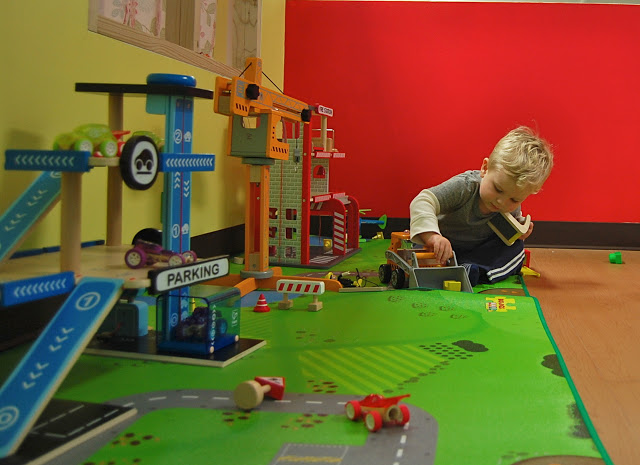 If you live in Northwest Arkansas and haven't already visited Imagine with your children, I highly recommend it! The other parents I chatted with seemed to really love the seating in the middle of the space that allows them to keep an eye on their kids while still enjoying the company of other adults. They also appreciate the idea of having everyone wash their hands first thing, especially now that we're entering cold and flu season.
The Details:
Open Monday-Saturday from 9-5
Admission for adults: $4 flat fee
Admission for children 1-8: $4/hour with an hour minimum, then $1 for every 15 minutes thereafter. So if you play for and hour and a half, it would be $6.
Monthly passes are $35 for one child and one adult
Yearly passes are $150 for one child and one adult
Located at 3801 Johnson Mill Blvd in Fayetteville
Kids and adults must remove their shoes before playing so make sure you bring socks!
Healthy snacks are available for purchase, and you can even buy the toys you find in the play center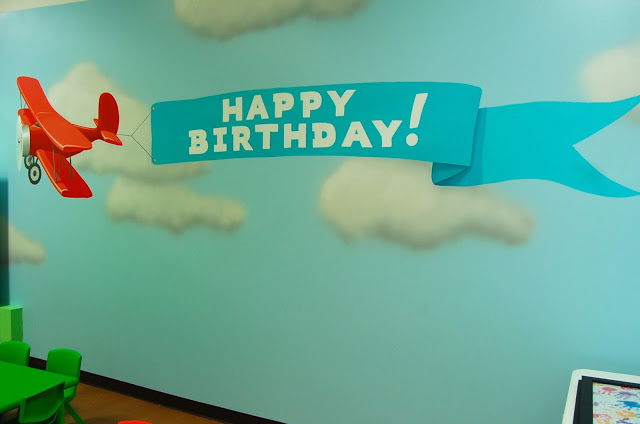 Imagine also offer birthday party packages starting at $200. There is a separate birthday room, or you can reserve the entire space if you choose their after-hours package. You can view the different packages offered on their website.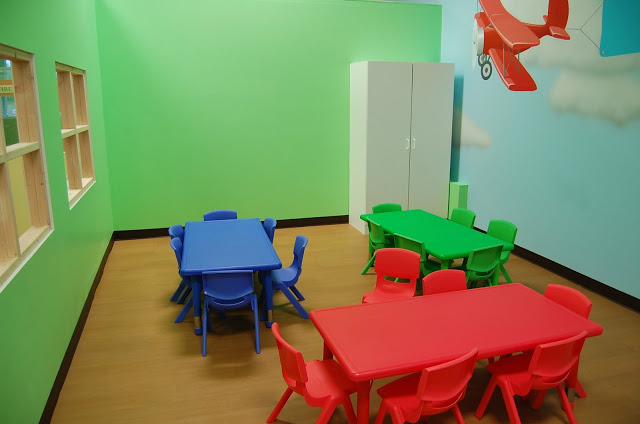 Now for the really fun part, I'm giving away a one month pass to Imagine-A Child's Adventureworld! Open to readers in the Fayetteville, AR and surrounding areas only. Good luck!