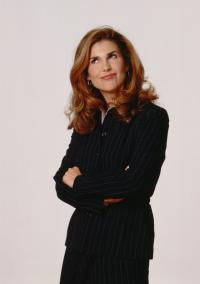 Ah, fall. The season of cooler weather and scarves, crunchy leaves and boots, bonfires and sweaters, and steaming hot beverages and jackets. Okay, clearly for me fall is as much about fashion as it is about anything else. I'll just go ahead and say it, I'm pretty sure I dress better in the fall. It might have to do with the fact that I tend to do more shopping in the fall than in any other season. Or it may be that I'm much more comfortable in the layers, sleeves, tights and boots of fall than I am in their warm weather alternatives.
A quick peek at my
Fall Fancies
board on
Pinterest
reveals that I'm loving leather, dots, colorblocking and those oh-so-fall textures like houndstooth and tweed. Not to mention the fanciest of my favorites for fall–peplum. Be it on dresses, tops or jackets, I'm in love!
As for the image above. I have been watching all of the old seasons of Frasier on Netflix and I've decided to channel Peri Gilpin as Roz Doyle this season. I'll leave the hair in the 90s where it belongs, but so far I've spotted her in maxi dresses, chambray and again my favorite, peplum.
This post is part of Arkansas Women Bloggers BLOGtober Fest. Check out all of the fun here.