This morning I keep staring at my to-do list. I have two days a week where Young Master Gray goes to school and those two days I try to do all the things. However, this morning I cannot seem to focus on any of the tasks I wrote out earlier this week. Two days ago I went in for an ultrasound on my remaining ovary. It was a follow up after a cyst was discovered in December. I have been feeling bloated and nauseated since December, off and on. That coupled with pelvic pain was enough to put me on high alert. My doctors did not seem to be as concerned so I tried to tamp down my anxiety as much as possible. This was easier on some days than on others. They had said that they wanted me to come back for a follow up in six weeks to make sure the cyst wasn't growing and nothing abnormal was occurring. Right around the six week mark, I started making calls to put the follow up ultrasound in motion. It took three weeks of me constantly calling to get where we are today. Advocating for myself is not something that comes naturally. In fact, there were many days during that period that I wanted to give up and just "see what happens." However, I am lucky enough to have people in my corner who know that I am not the squeaky wheel, and they lovingly pushed me to keep at it. These same people also saw how sick I was feeling and threatened to make calls for me if I didn't do it for myself. Again, I am so grateful to them.
Once my ultrasound was done and the results were sent to my doctor, all of a sudden they were acting with urgency. An MRI is in the works and an appointment with an oncologist was made immediately. That appointment is today. I am grateful that I do not have to wait with the unknown for long, but the fact that now they are rushing and getting things done after dragging their feet for so long definitely makes me uneasy. Of course, I am holding on to the idea that all of this is being done "out of an abundance of caution" because of my history of ovarian cancer. No one has said that to me, but that is my life preserver at the moment.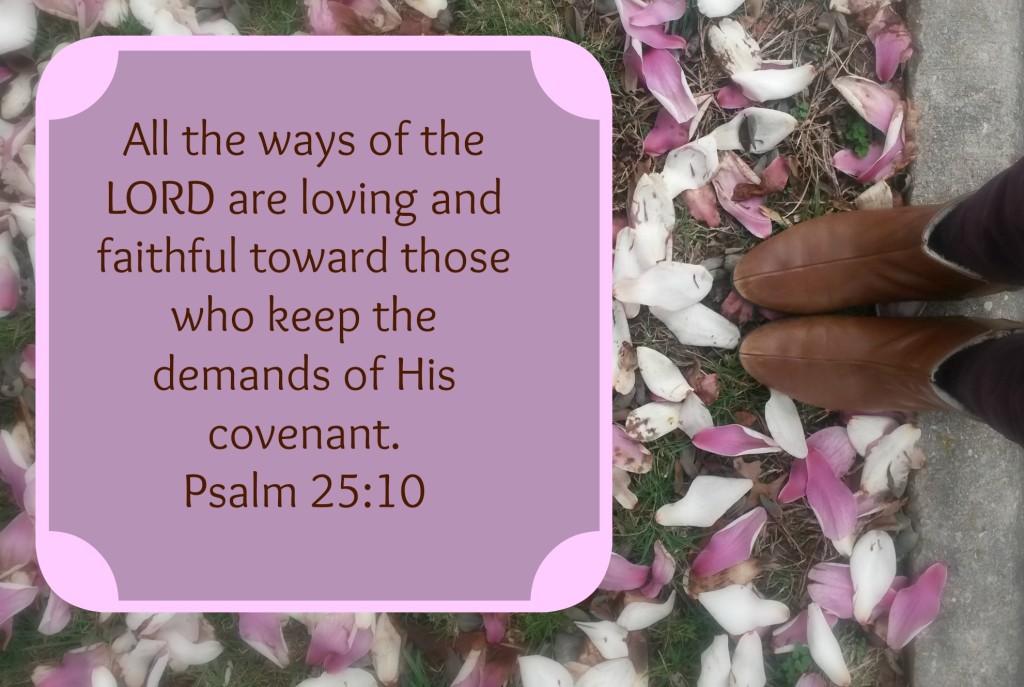 This verse also serves as a life preserver, as it has before. It is the verse that I was journaling when I got the call that my cancer was gone, nearly 13 years ago. I found this verse to be true and a comfort then, and in many other times in my life. The Lord was loving and faithful when my cancer was all contained in the tumor and completely removed with no need for treatment. He was loving and faithful when He gave me a son though I had thought I would never have children of my own. There are many, many more instances that I could list, and today I choose to dwell in them. Instead of letting my mind wander down the road of what ifs, I will think of all the ways that the Lord has shown Himself to be loving and faithful.
Of course, this doesn't mean that I am not sick to my stomach and still anxious as the time for my appointment approaches. I am still feeling both of those things.
I'm sharing all of this even though it is against my nature because I have really appreciated the transparency of others recently. I want to become better at being transparent in my troubles and anxiety as well as in my triumphs. So, I am not sharing this for your sympathy, but because I want to have you all along with me praying, sending good vibes and all of your positive thoughts. Forgive the dorkiness, but I can't get the image of a virtual Care Bear stare out of my head!