Last year for Earth Day, I wrote about how small changes can make a big impact on the environment. As I mentioned last month, I want to start sharing some of the ways you can make small changes in your home. Today, I am highlighting my favorite reusable food storage options for in the kitchen and on the go.
These items will help you curb your use of plastic zip top bags, plastic wrap, and other disposable food storage items we all use in the kitchen.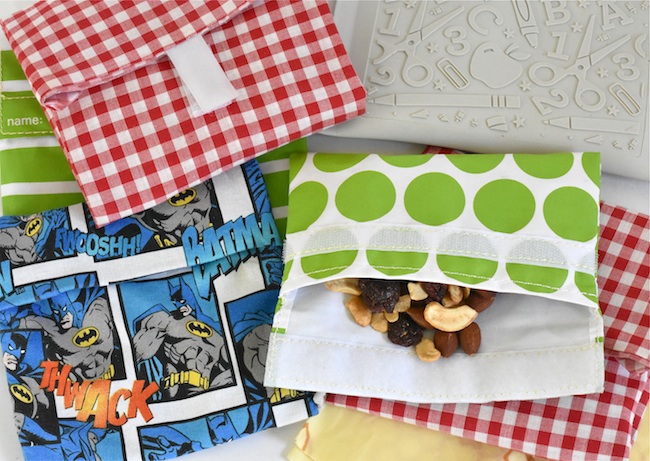 Out with the zip top bags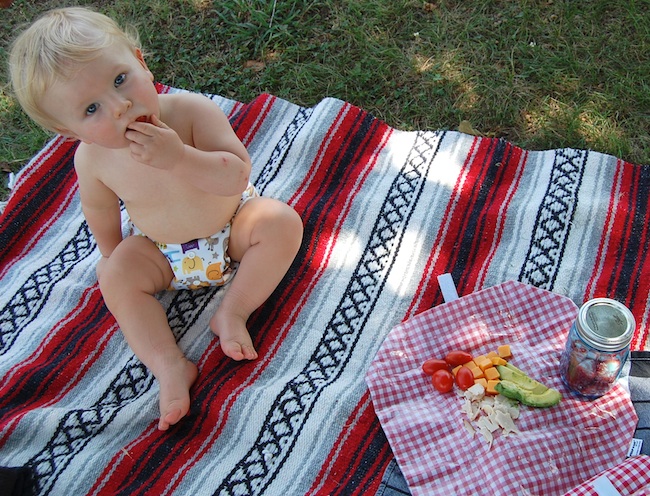 The following contains affiliate links, which means if you make a purchase from the link I get a little cash to spend at the Farmer's Market.
1. The first reusable storage item I ever purchased (besides glassware) was the Wrap-n-Mat. My go-to lunch for work was always a sandwich and the Wrap-n-Mat wraps right around your sandwich. It also doubles as a nice placemat which comes in handy, especially on picnics with kids. Even though I don't pack a lunch for work anymore, this sandwich bag alternative still comes in handy. The plastic on the interior allows you to easily wipe it clean, and is BPA-free.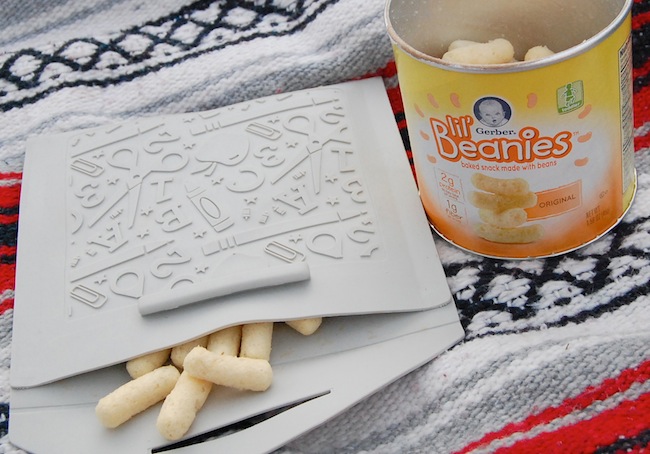 2. When I saw the spbang reusable snack bag featured on TheBabyGuyNYC Facebook page, I was already sold. Then I read that you can put it right in the dishwasher to clean it! I love the the ease of this bag. It's great for snacks, but I've also been known to throw crayons or dry erase markers in it. It is easy enough for Coen to open himself and pretty durable. Plus, there's space on the back for school lunch notes or just writing your name. Check them out here.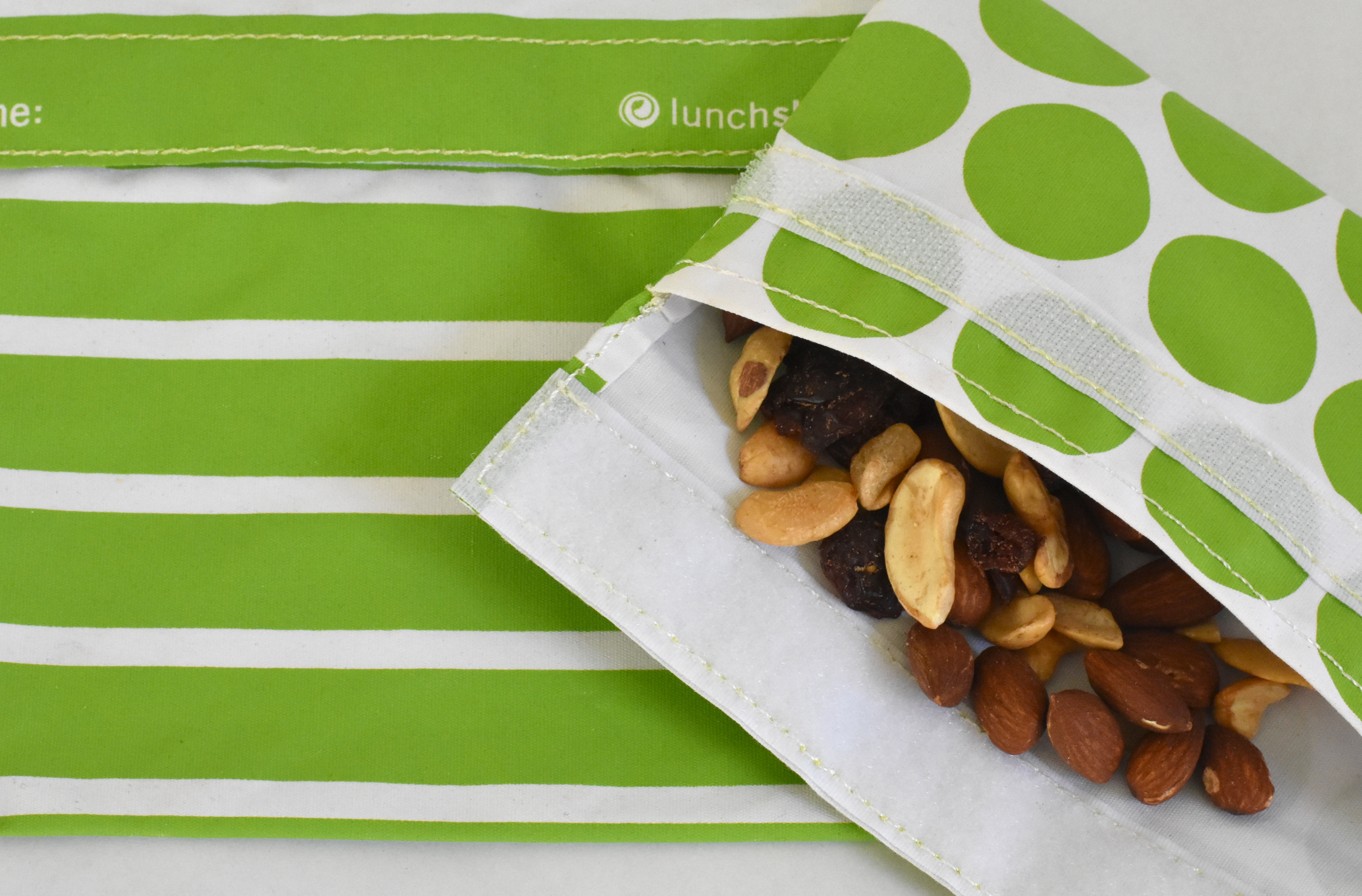 3. These reusable Lunchskins bags came in one of my Might Fix deliveries. If you don't know about The Mighty Fix, it's a subscription service through The Mighty Nest that delivers one green living product to your home every month. This delivery came with one sandwich bag and one smaller snack bag. Both have velcro closures and a spot to write your name. This is another item that is safe to wash in the dishwasher! Yay! (Just make sure to turn them inside out to air dry after washing).
4. AtMat SplatMat is where it's at! Seriously! I discovered these super cute reusable bags on Instagram and soon after was the recipient of one of their giveaways! These are great for snacks or sandwiches and can be washed in the washer or dishwasher. They are also safe to throw in the dryer. I usually throw them in with towels and then turn them inside out to air dry. Coen loves the Batman theme bags!
So long, plastic wrap
5. Bee-ing able to leave the plastic baggies and plastic wrap behind has been a long time coming in our household. I can finally say we've kicked both habits though! Woo! The natural, sustainable and yes, green, alternative to plastic wrap is Bee's Wrap. I love this stuff. It's made with organic cotton muslin, beeswax, jojoba oil, and tree resin. The antibacterial properties of the beeswax and jojoba oil help to keep food fresh and allow you to use the Bee's Wrap again and again. Using it is super simple. Just use the warmth of your hands to help seal the Bee's Wrap around bread, cheese, halved avocados, and bowls (no meat though, ew!). Then, wash it with cool soapy water and let it air dry. It folds up nice and small to store away until you need it again!
The Bee's Wrap was another Mighty Fix item for me, but I also found it on Amazon, and locally at The Freckled Hen Farmhouse in Fayetteville. Also, be sure to head over to nwafoodie for another great post about beeswrap. Lyndi is a fellow Arkansas Women Blogger, and she's talking about all things lovely for your kitchen!
Think you'll give any of these reusable food storage options a try? If so, come back and let me know! I'd love to hear what you think. Most of all, just keep taking those small steps!
Save
Save
Save
Save
Save
Save
Save
Save
Save
Save